Helping someone seek professional help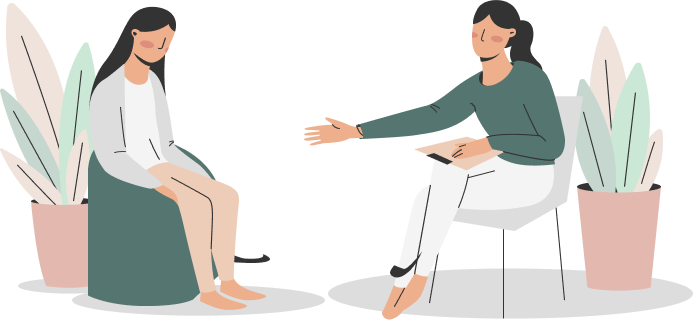 Factors that may hold back an individual from seeking help
Stigma

about being labelled as 'crazy' or 'weak' for seeking help, eventually leading to fear, shame, embarrassment about not fitting into society

Low perceived need

for help based on seeing one's concerns as too small compared to others, or thinking that the problem doesn't lie with them

Preference for self-reliance

as seeking help might be seen as being dependent and not having control and power over one's own life

Family beliefs or past experiences

about treatment not being helpful

Difficulty accessing help

due to financial and/or logistical constraints

Difficulty identifying and expressing concerns

due to limited mental health information, finding it hard to communicate
Forcing an individual to seek help does not work
When individuals are forced to consult a professional even when they're not ready, they may:
Not open up / hide important information / lie

Feel fear or defiance

Feel resentful on being forced
Hence, encouraging them gently and letting them feel ready to seek help is necessary.
How to help someone get ready to seek help
Initiating conversation

around mental health to create awareness and sensitivity, and to get an idea about their understanding of mental health

Expressing concerns

, conveying changes observed in their daily life without sounding judgmental or biased

Sharing life stories

of people's experiences dealing with similar distress (while not minimising or comparing) to encourage them and let them know they're not alone

Providing resources

such as relevant mental health information, identifying professionals who seem like a good fit, etc.

Easing their worries

by debunking any myths, nudging them for the initial talk with a professional, accompanying them for their first session, etc.
Ways to support them till they're ready to seek help
Offering unconditional support

and helping them the way they want to be helped

Lending a hand

by helping them plan out their day/tasks or sharing the load of some tasks while being mindful of our own capacity

Encouraging them to participate

in activities and participating with them

Being patient

and providing a judgement-free space irrespective of whether they choose to seek help or not

Checking in

on their well-being, letting them know that we're here if they need

Keeping resources ready

like safety kits, anxiety toolkits, basic breathing exercises to help calm them down in the face of any distress
Being mindful of one's limitations
Understanding our limits

and reducing pressure on ourselves as we can't replace the help provided by professionals (except taking steps to ensure safety)

Keeping a check on our feelings

as the process can bring in feelings of frustration, exhaustion, helplessness, etc. and it is important to take care of ourselves too

Noticing changes in our physical health/daily functioning

as caregiving can affect our health and productivity

Taking a break

even if it feels selfish

Asking for help

and sharing responsibility with others and not looking at it as us being less dependable

Creating boundaries

and choosing how we wish to help others

Seeking support

when it's becoming very difficult to manage our own mental health
Call our helpline or email us if you are struggling with taking care of someone and feeling stressed yourself.